Protesters march over Cumbrian waste site plans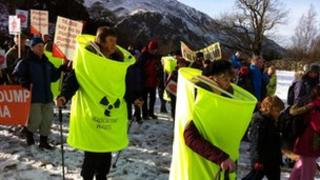 Hundreds of people have taken part in a march against the possibility of building an underground nuclear waste site in Cumbria.
Councils will decide next week whether to conduct feasibility studies for the radioactive repository.
Protesters from all over the country carried banners for 2.5km (1.5miles) through the valley of Ennerdale to lobby against the plans.
A petition against the proposals now has more than 17,000 signatures.
Unite, which represents staff at the Sellafield plant, gave its backing ahead of a public meeting in Carlisle on Friday.
Allerdale and Copeland borough councils and Cumbria County Council are due to vote on 30 January on whether to proceed to "Stage 4" of the process that could see the repository built.
The proposed facility could be up to four times the size of Sellafield and take 15 years to build.