Furness Academy gets Olympic funding for athletics track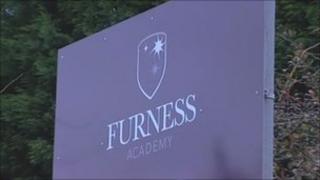 A £22m academy being built in Cumbria has received an Olympic funding boost.
Furness Academy in Barrow-in-Furness is currently being rebuilt in a new building due to open in September.
The academy has been awarded £150,000 towards the development of an athletics track from Sport England's Inspired Facilities fund.
Furness Academy is one of more than 300 projects to get funding in the latest round of the sporting body's facilities funding programme.
More than 1,000 groups have now received grants from the fund.
Principal Douglas Blackledge said: "It's fantastic news for the academy, for the town of Barrow in Furness and for the wider sporting community of Cumbria and further afield that this grant offer has been made.
"The £150,000 grant services only a part of the capital outlay required to make the project viable, but with the contributions of our bid partners, alongside a substantial contribution which we hope to secure and confirm at a later stage, we are hopeful that we will be able to continue within the timeline set by Sport England.
"The grant award is really exciting and is most welcome news for all concerned, but it is only the first step in a long process of turning this dream into a reality and there are some significant obstacles still to be overcome along the way. In consultation with relevant partners the Academy's sponsors and Governors will now be considering how best to proceed following this announcement."