Dale Burns inquest: Tasered bodybuilder bent handcuffs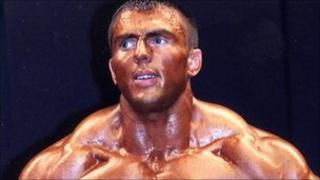 The inquest of a bodybuilder who died after being Tasered has been told that he struggled so hard that he bent the handcuffs police used to restrain him.
Dale Burns, 27, suffered a heart attack following his arrest at his home in Barrow, Cumbria in August 2011.
The former nightclub doorman had been Tasered four times in less than a minute, and pepper-sprayed in the face.
Jurors were shown the steel handcuffs used on him, which were later found to be so bent they would not lock.
The hearing at Kendal County Hall also heard further evidence from PC Kevin Milby, who fired the 50,000-volt weapon.
Questioned by James Berry, for Cumbria Police, he said that many of the signs police guidelines listed as a risk of violence were present, as Mr Burns paced the room with his fists clenched.
PC Scott Elliot then said that after PC Milby fired the first Taser burst he tried to restrain Mr Burns, but the large, muscular man shrugged him off.
PC Milby fired again but Mr Burns was still struggling violently, so, in fear of his own safety, PC Elliot used the pepper spray.
Eventually he and another officer were able to handcuff and restrain him.
The inquest continues.