Dale Burns inquest: Officer fired Taser 'out of fear'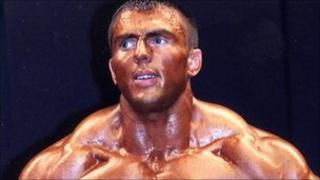 The police officer who Tasered a bodybuilder four times has told an inquest into the man's death how he fired shots in "fear" for his safety.
Dale Burns, 27, of Barrow, Cumbria, suffered a heart attack and died after being arrested at his flat.
Mr Burns collapsed after he was hit for the first time, jurors heard.
The inquest, which is expected to last up to three weeks, has previously heard how Mr Burns had taken the illegal drug "Madcat" on the day of his death.
PC Kevin Milby told the hearing at Kendal County Hall how he fired the 50,000 volt weapon four times within the space of 52 seconds.
Mr Burns fell after the initial blast but PC Milby shot three more times as colleagues struggled to arrest the father-of-two.
'Gentle giant'
The former nightclub doorman died around two hours after his arrest, during which he was also pepper-sprayed in the face.
Described as a "gentle giant" at the hearing, Mr Burns was known to use cannabis and cocaine and was in a "wild-eyed" state when officers arrived to arrest him on suspicion of criminal damage after he wrecked the bathroom of his flat in August 2011.
"Immediately I could tell he appeared to be under the influence of some sort of drugs," PC Milby told the hearing.
"His eyes were rolling in the back of his head and pupils dilated. He was making sudden, jerky movements. I asked him what he had taken. He replied, 'Madcat'."
Three-second gap
PC Milby said he was forced to use his Taser as Mr Burns approached him.
"He turned towards me, he had both fists clenched... grinding down on his teeth," PC Milby said.
"As he approached I decided to self-authorise the Taser and discharged it at him. It was my belief he posed a danger to me and other officers and himself.
"He was becoming increasingly aggressive. I feared for my personal safety at that time."
PC Milby said he did not have time to shout a warning to Mr Burns and jurors heard how there was a gap of three seconds between the end of the first blast and the start of the next.
Jonathan Hough QC, counsel for the coroner, asked the officer if he should have waited before pulling the trigger again after the first blast.
"I would say it would be unsafe for all parties to do so," he replied.
Heart attack
Mr Burns was taken to Furness General Hospital in Barrow where medics administered diazepam at 19:35 BST and calmed him down.
But he then suffered a heart attack and was pronounced dead at 20:41 BST.
A post-mortem examination revealed there was no abnormality of Mr Burns' heart but there were traces of Madcat - methylenedioxypyrovalerone - in his blood.
The circumstances surrounding Mr Burns' death are also the subject of an Independent Police Complaints Commission investigation.
The inquest continues.