Ryan Ward inquest: Death 'consequence of own actions'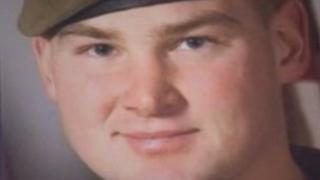 A young soldier found hanging at his home in Kendal had been involved in a "potentially traumatic" incident in Afghanistan, an inquest has heard.
Ryan Ward, 20, shot dead an Afghan policeman who killed two other soldiers in a "shocking and horrible" ambush.
A day before his death he had attended the funeral of Sgt Gareth Thursby, on 26 October, the hearing was told.
Coroner Ian Smith recorded that Kingsman Ward died as a consequence of his own actions, but not suicide.
He added: "He did what he did, but we have no idea why he did it or what his intentions were.
"It is different from a suicide because the decision to end it all is just not capable of being seen from the evidence heard."
He told Kingsman Ward's parents: "I'm sorry I can't answer what was going through your son's mind, but nobody will ever know I'm afraid."
Death 'inexplicable'
The inquest heard Sgt Thursby, 29, died alongside Private Thomas Wroe, 18, while manning a checkpoint in the Nahr-e Saraj district of Helmand Province on 15 September last year.
A rogue Afghan policeman pretended to be injured, but then opened fire on the pair.
Kingsman Ward, who served with 3rd Battalion The Yorkshire Regiment, reacted swiftly and "appropriately" by killing the man.
But the inquest at Kendal Magistrates' Court heard Kingsman Ward's death was "inexplicable" as he had shown little, if any, signs of distress at what had happened in Afghanistan.
His company commander, Major Finlay Bibby, said that Kingsman Ward had gone through a process called decompression and had been interviewed repeatedly by trained staff to assess the risk of post traumatic stress.
"There were no signs," Major Bibby added. "In fact there were positive signs, he talked about re-deployment."
The soldier's mother, Kathryn Ward, said it "never entered my head" that he may take his own life.
Mr Smith added: "He did what he should have done and did not crack up under the stress of that truly shocking incident he was involved in.
"There is certainly no expectation he might self-harm, and yet he did."