Work begins to erect the Armistead wind farm in Cumbria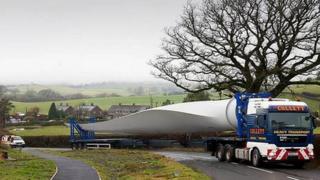 Work has begun to erect the first of six turbines that will make up the Armistead wind farm in South Cumbria.
Components, including huge turbine blades, have arrived at the South Lakeland site near Old Hutton, which is being developed by Banks Renewables.
Construction work is expected to take up the three months, subject to weather conditions.
When fully operational, the wind farm will provide power for 6,800 homes, according to the company.
Phil Dyke, development director at Banks Renewables, says: "A great deal of work went into the planning of our delivery schedule to both minimise local traffic disruption and ensure that everyone is fully kept up to date on when deliveries are scheduled to take place, and we're very pleased with how things have gone so far.
"Further deliveries will take place over the coming weeks to enable us to continue the construction process, and we will ensure that everyone remains fully informed about the schedule ahead of any convoy's arrival."