Alice Pyne campaign to boost bone marrow donors hailed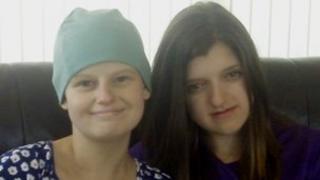 The impact of a campaign to attract bone marrow donors by a Cumbrian teenager who died at the weekend has been "huge", charity bosses have said.
Alice Pyne, 17, from Ulverston, was diagnosed with Hodgkin's lymphoma at the age of 13 and published an online "bucket list" in 2011.
Top of the list was her hope that everyone in the UK would sign up as a bone marrow donor.
The Anthony Nolan Trust said her work had attracted thousands of new donors.
Alice's mother Vicky announced the youngster's death late on Saturday, saying: "Our darling girl, Alice, gained her angel wings today.
"She passed away peacefully with Simon, Milly and myself by her side. We are devastated and know that our lives will never again be the same."
Increased awareness
Thousands of tributes have been paid to the teenager, who along with her sister Milly, was awarded the British Empire Medal last year for their charity efforts.
They included messages from comedian David Walliams and TV presenters Davina McCall, Philip Schofield and Carol Vorderman.
Ann O'Leary, head of register development at The Anthony Nolan Trust, a charity which helps find matches for people who need a bone marrow transplant, said the impact of Alice's campaign "could not be over-estimated".
More than 40,000 people are known to have signed up as donors as a direct result of Alice's campaign.
She said: "Her legacy will live on in the people who have joined our bone marrow register in her name.
"The increase in awareness that has happened because of Alice has been huge.
"But actually in terms of people who have joined the register it is in the tens of thousands.
'Simply amazing'
"Her appearance last year at the Pride of Britain awards resulted in 1,300 people signing up that evening. We would usually expect about 50.
"When she first put her bucket list online, we had 35,000 visitors to our website in three days. Normally we would get about 1,000 a day. So her impact has been incredible.
"The inspiration that she provided for people was simply amazing."
When Alice was diagnosed with cancer she underwent extensive chemotherapy and radiotherapy treatments.
She also received a stem cell transplant where her own treated cells were used, but this was not effective.