'Bucket list' teenager Alice Pyne loses cancer battle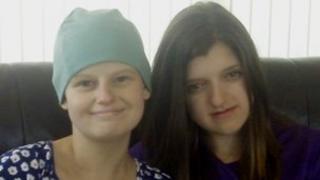 A Cumbrian teenager, who set up an internet "bucket list" of things she wanted to achieve, has died following a long battle with cancer.
Alice Pyne, 17, from Ulverston, was diagnosed with Hodgkin's lymphoma at the age of 13 and published her internet wish list in 2011.
Alice and her sister Milly were each awarded the British Empire Medal last year for their charity efforts.
Alice's mother Vicky said her daughter died peacefully on Saturday.
Making the announcement on social networking sites, Mrs Pyne said: "Our darling girl, Alice, gained her angel wings today.
"She passed away peacefully with Simon, Milly and myself by her side.
"We are devastated and know that our lives will never again be the same."
The top item on the bucket list was the hope that everyone in the UK would sign up as a bone marrow donor, an aspiration which Prime Minister David Cameron praised in the House of Commons.
Stem cells
It is estimated that about 40,000 people signed up as donors as a direct result of her appeal.
Alice and her sister raised more than £100,000 for charity and founded Alice's Escapes, a charity that provides holidays for families with seriously ill children.
When Alice was diagnosed with cancer she underwent extensive chemotherapy and radiotherapy treatments.
She also received a stem cell transplant where her own treated cells were used, but this was not effective.
When she set up her wish list she said: "I have terminal cancer. I've created a bucket list because there are so many things I still want to do in my life.
"I'm not expecting to do everything on it. Some of the things are just not going to happen because I can't even leave the country now.
"So, I thought it would be fun to have my list online and to tick things off and do a little update on everything I do."
She managed to achieve most of her ambitions, including whale watching, swimming with sharks, travelling to Kenya and meeting Take That.