Lake District scheme to assist visually impaired people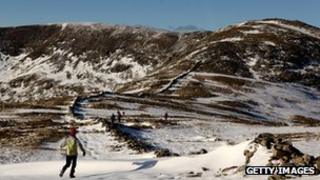 Martin Ellis has been familiar with the mountains of the Lake District for years - they have become part of his life.
And now he has started training in a scheme that aims to bring his enjoyment to visually impaired walkers.
The My Guide scheme has been set up by Sight Advice South Lakes, which has teamed up with charity Guide Dogs to train volunteers to be buddies to those who need them.
Mr Ellis and 20 other trainees aim to re-kindle the confidence and independence of visually impaired people in the area when their sight starts to fail.
"I get so much more out of guiding a visually impaired person than if I'm on my own," he said.
"I need to take account of things much more and I'm noticing far more things around us.
"Whether we're walking in the Fells or towns, I'll be describing the view or the surroundings, but I actually have to look much more closely."
Train blindfolded
But My Guide is not just there to guide people around the Fells and mountains.
It is also about re-familiarising them with wherever their every-day surroundings are - including in the shops on the busy Lake District high streets.
Over a period of three to six months, the volunteers will engage with their partner in such a way that they will be able to go-it-alone with confidence.
Mr Ellis said: "One of the most telling parts of the training from my point of view as a sighted person, was to be blindfolded and to have the experience of being guided in and out of buildings and in the town centre.
"I was unable to assess the speed I was walking and I very quickly became disoriented, depending on my guide to tell me exactly where we were.
"I realised that even for someone who was very familiar with an area, it's easy to lose your bearings."
He said that the guide has to operate on two different levels.
"You want to have a conversation with the person you are guiding but while you are having that conversation, you are constantly looking ahead assessing the risks," he said.
"You have to think ahead dealing with the immediate things of knowing exactly where you are and not only where your feet are, but theirs as well."
Mary Harris, 80, lives in Ambleside, is registered blind and has signed up for My Guide, after her sight started failing 10 years ago.
She explained: "One of the things one loses... is confidence.
"I often say to people to see what it's like they should go into their local well-known shopping area and just try and go for a shop with your eyes closed.
"Suddenly, everything goes out of sync - you think you know where you are, but you're not there.
"My Guide is just a transitional help to get me on my own feet again and to be able to go out with confidence."
'I'm a bit naughty'
For Mrs Harris, My Guide is most useful in a town environment.
"You wouldn't lose me on mountains, I'm very good out there," she said.
"But I get lost in towns so this scheme is not just useful, it's essential.
"I keep doing things I'm told I shouldn't do.
"I shouldn't go on escalators because I'm told it's dangerous - but I'll keep going on them."
"I even got one of my guides into trouble because I got him to take me over the stepping stones over a river.
"Bless his heart, he took me - I'm a bit naughty."