Trees planted to boost Cumbria black grouse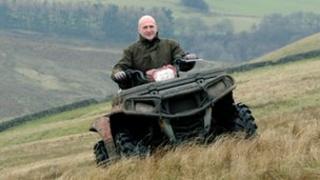 Thousands of trees will be planted on a Cumbrian fell in a scheme to boost numbers of an endangered bird.
Farmer Paul Stobbart will receive £130,000 from the Forestry Commission for the scheme to help black grouse.
It will involve planting 16,000 trees such as oak, birch and rowan in a 25-hectare wood.
Another aim of the scheme will be to tackle landslides, with the new trees helping to bind the soil together to prevent erosion.
The Forestry Commission said 80% of the black grouse population was concentrated in the North Pennines Area of Outstanding Natural Beauty.
It said the population in the area was about 1,000 adult males, which showed a recovery after numbers fell following recent hard winters.
Forestry Commission woodland officer Jim O'Neill said: "The North Pennines has very low levels of native woodland cover, so a scheme of this size makes a real impact."
Mr Stobbart said: "It's good to boost wildlife like black grouse, but planting is also a sound option for the land in economic as well as environmental terms.
"Long-term I also hope trees will provide hillside shelter for livestock."