Lake District zip wire plan rejected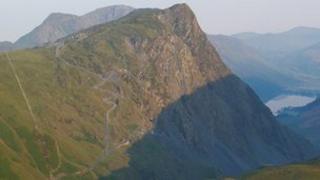 Plans to erect a mile-long zip wire for a temporary period on a Lake District mountain have been rejected.
The Lake District National Park Authority (LDNPA) planning committee rejected the proposal for the zip wire at Honister Slate Mine.
Seven members voted against the proposal and four were in favour.
The plan would have seen two zip wires built from near the top of Fleetwith Pike following the route of the old Lancaster aerial ropeway.
Supporters of the proposal said it would have allowed visitors to return to the base of the mine visitor attraction without damaging the fragile alpine environment on foot.
Helicopter crash
The LDNPA had previously rejected plans that were presented in 2010, as they felt it would be detrimental to the environment.
The proposed zip wire at the mine would have replicated a similar construction that existed there more than 80 years ago.
Its reintroduction was the brainchild of Mark Weir, who ran the slate mine at the top of the Honister Pass.
Mr Weir died in a helicopter crash close to the mine in March 2011.
Speakers at the LDNPA headquarters in Kendal presented arguments both for and against the new proposal.
Parish councils and Friends of the Lake District were represented and Cumbrian mountaineer, Sir Chris Bonington spoke in favour of its installation.
He said that the new scaled down plan was appropriate and would cause very little in the way of noise pollution.
However, National Park planners said there was a "fundamental principal" at stake that the mountain tops were not the right place for such an activity.