Off-roaders damage The Helm in Kendal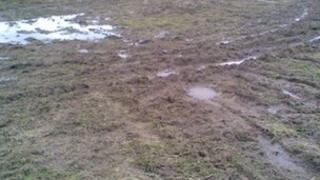 Off-roaders are being warned to stop driving on a Cumbrian landmark after it was badly churned up.
Cumbria Police said The Helm, in Kendal, had been scarred by vehicles being driven across saturated ground.
They believe most of the damage is being done at night and fear drivers may lose control and injure themselves and others using the area.
The hill is described by the Friends of the Lake District as an important local landmark and is popular with walkers.
Sgt John Stephens, of Cumbria Police, said some areas on The Helm had become impassable and appealed for people to report vehicles being driven across the area.
He said: "Looking at some of the tracks it is obvious there is a real danger of drivers losing control.
"They risk their vehicles turning over, causing serious injury to drivers, passengers and anybody who happens to be in the area."