Man swept into Blackpool sea 'unlikely' to survive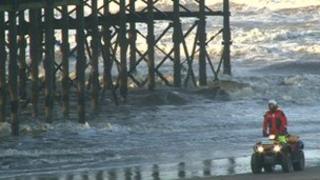 It is "highly unlikely" a man swept into the sea in gale-force winds in Blackpool has survived, coastguards have said.
The 41-year-old was reported to have been walking his dog near the South Pier with another man when they ended up in the water shortly after midnight.
An overnight sea search involving two helicopters, lifeboat crews and the RAF was called off at 03:30 GMT.
A shoreline search for the man's body will resume on Wednesday morning.
Emergency services were called at 00:13 GMT following reports that a man was in the water near the South Pier at Blackpool.
Sea search terminated
A major search was launched involving Blackpool and Lytham RNLI lifeboat crews, the police helicopter, coastguard rescue units and the search and rescue helicopter from RAF Valley on Anglesey.
A football thrown to the man was recovered, although a life ring that was also thrown into the water was still missing.
Stuart Atkinson, watch manager at Crosby Coastguard station, said the strong, westerly gale-force winds made the operation difficult.
He added the conditions, water temperature and length of time in the water made it "highly unlikely" the man could have survived.
"From the information we received, we must unfortunately presume the man went into the water and there is nothing to suggest at this stage that he made it to shore," Mr Atkinson said.
"Therefore the sea search has now been terminated and we are now in the process of searching the shoreline for a body."
A search of the coast and beaches was focusing on an area around the South Pier and the Blackpool sea wall.
The incident comes just before the 30th anniversary of the drowning of three Blackpool police officers who died trying to save a Scottish holidaymaker who had gone into the sea near Gynn Square to rescue his dog.
PCs Angela Bradley, Gordon Connolly, Colin Morrison drowned trying to rescue Alistair Anthony on 5 January 1983.