New Years Eve dippers take the plunge in Whitehaven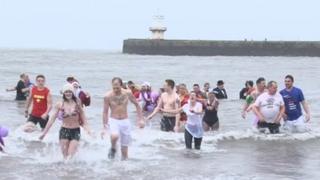 About 100 people have taken part in a New Year's dip in Cumbria.
The annual event, organised by Golden Sands Polar Bear club, saw dippers run into the Irish Sea at Whitehaven.
People have to put their head underwater as part of the rules of the dip that sees many people raising money for charity.
Organiser Gary McKeating said: "We usually raise between £15,000 and £25,000 and it's a bit of daftness and that's what people enjoy."
Although the temperature in Whitehaven was about 10C many dippers said the sea water was still "very cold".