Peter Farquhar ordered to pay back profits from fraud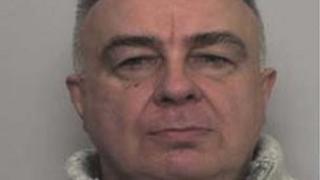 A former train driver who lived a "life of luxury" in Thailand while claiming benefits and running a cigarette fraud scheme has been ordered to pay back the profits from his scams.
Peter Farquhar, 54, from Cumbria, was jailed for three years in 2011 for falsely claiming benefits, money laundering and avoiding tax duty.
He was ordered to pay back £220,000 at Carlisle Crown Court on Thursday.
Farquhar, of Whitehaven, was given six months to pay the amount back.
'Pure greed'
During the Proceeds of Crime hearing he was found to have made £266,005 from his actions.
His assets to the value of just over £222,000 included a house in Whitehaven, a Toyota car and £100,000 in hidden assets.
He will serve a default prison sentence of two-and-a-half years if he fails to pay the amount back.
Police investigated Farquhar with the Department of Work and Pensions before arresting him.
He was also convicted of conspiring to import illegal steroids.
Det Insp Rob O'Connor of Cumbria Police, said: "Peter Farquhar lived a life of luxury in Thailand, and sent parcels back to the UK for others.
"He lived on the profits, and through pure greed continued to claim benefits he thought he was entitled to from the Department of Work and Pensions."