Cumbria becks cleaned in bid to prevent further floods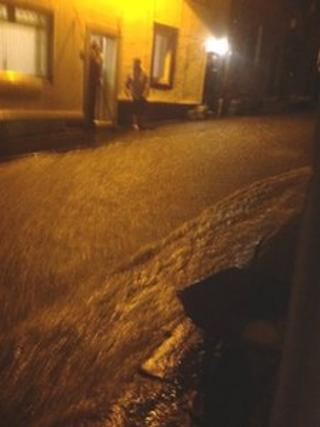 Becks have been cleaned and drains unblocked in a bid to protect Cumbria six months after hundreds were evacuated from their flood-hit homes.
In August trains were derailed and hundreds of people had to leave their homes when heavy deluges hit the area.
Copeland Council said clear-up work was ongoing and a drop-in session would be held for the residents of Orgill in Egremont who were badly affected.
Flood experts will be on hand at Falcon Club on 19 December at 15:00 GMT.
Other areas affected by flooding were Mirehouse and Whitehaven town centres in the north, St Bees and Seascale on the coast, and Gosforth and Ravenglass in the south.
'Answer questions'
Pat Graham, Copeland's director of services, who has led the flood recovery co-ordination group, said: "We recognise that people now are keen to understand both why the flooding occurred, and more importantly, what can be done to stop it happening again.
"This has been a challenging process, and there is still much to be done, but we are now in a position where we will be able to answer some of people's important questions relating to the Orgill estate.
"We want as many people as possible who have been affected by the flooding to come along to raise any questions and for our partner agencies to listen and learn."
The work to address problems is being led by Cumbria County Council, the Environment Agency and United Utilities.
They have been supported by those who own land and properties affected, including Home Group, Two Castles.