Sellafield offers help to Whitehaven's Beacon Museum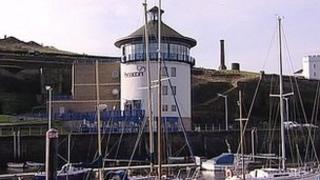 Bosses at a nuclear plant have offered to step in and try to save a Cumbria museum under threat from council cuts.
Copeland Council needs to save £2.6m over the next two years and was considering shutting the Beacon Museum in Whitehaven.
It has now said it is trying to save the attraction and is working with Sellafield Ltd, which wants to invest in the centre and help run it.
The company said the museum could feature the plant's nuclear history.
Sellafield Ltd's stakeholder relations director, Rory O'Neill, said: "This is an exciting development for us, the Beacon has great potential.
"We are now working together to explore our joint aspirations for the building and develop a plan for its future.
'Tourism sector'
"We want to tell the Sellafield story, past, present and future; and the Beacon could be the best way for us to do that, while at the same time working with Copeland [council] and enabling them to continue to provide what is a fantastic visitor attraction.
"Sellafield Ltd also has experience in the tourism sector."
Copeland Borough Council leader Elaine Woodburn said she had asked local people and businesses to come up with ideas to help save services.
She said: "I'm delighted that Sellafield has come forward to express an interest in working with us at the Beacon.
"We currently have a first-rate regional facility and this collaboration could secure what becomes a first-rate national facility.
"I'm optimistic that this partnership will ensure the Beacon's future and could signal the beginning of an even more successful period in its history."