Lottery cash to restore Heron Corn Mill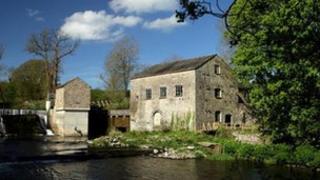 An historical watermill in Cumbria is set to be repaired thanks to a lottery grant of almost £1m.
Heron Corn Mill on the River Bela in Beetham dates back to the 18th Century.
The £939k Heritage Lottery funding will be used to restore its exterior wheel, improve facilities for visitors, and provide training in traditional skills.
A further £429k grant will be spent on work to restore hay meadows, in a project which will also involve inmates from HMP Haverigg.
Inmates will be given the chance to get involved with the project, learning new and valuable skills to help them with their overall rehabilitation.
Tourist attraction
As part of the scheme, run by Cumbria Biodiversity Partnership, land owners and farmers will also be able to gain skills in restoring their meadows and volunteers will be trained to carry out hay meadow surveys.
Sara Hilton, head of the Heritage Lottery Fund North West, said: "These two projects reflect Cumbria's rich natural and industrial heritage perfectly and both mean a lot to their respective communities."
Westmorland and Lonsdale MP Tim Farron said: "The [total of] £1.3m will enable essential restoration of our beloved landscapes and habitats, as well as developing the already brilliant community asset at Heron Corn Mill, which will provide training and volunteering opportunities to the local community as well as acting as an important tourist attraction.
"This announcement is extremely welcome as a means of supporting and protecting the future of our local heritage and communities at a time when many cultural projects are struggling for funding."