Cumbria's A66 route has snow gates installed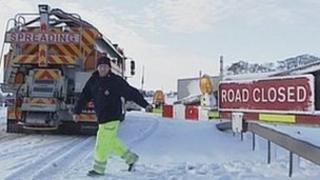 Snow gates have been installed on a trans-Pennine road, to improve safety during severe weather.
The Highways Agency has spent £180,000 on the project on the Cumbria stretch of the A66.
The gates are on the eastbound carriageway near Augill Beck which at 1,400ft (426m), is one of the highest points along any trunk road in England.
Electronic warning signs will also enable drivers to alter journeys well ahead of the official turning point.
Andy Withington, the Highways Agency's service delivery manager for the North West, said: "These new arrangements will give drivers a better warning in severe weather to choose alternative routes and not risk getting stuck beyond the gates.
"Those who do go past the warning signs will be allowed to turn around at the gates, reducing the risk of them getting stuck and needing rescue or blocking our winter service vehicles as we work to re-open the route again."
The eastbound gates are in addition to those near Bowes in County Durham closing the A66 off to westbound traffic.