Police action on illegal scrap metal dealing in Cumbria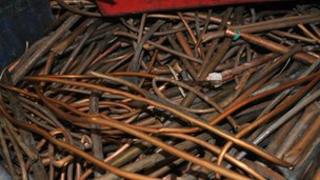 A crackdown on illegal scrap metal trading has been carried out by police throughout Cumbria.
They visited traders to ensure they, and their customers, were complying with a new trading law.
The law, making it illegal to trade scrap metal for cash, came in to force this week.
The police said despite a decrease in metal thefts in the county, thieves are stealing metal from other parts of the country and selling it in Cumbria.
Scrap dealers have been given leaflets and posters to display, ensuring customers are aware of the new law.
Det Ch Insp Bob Qazi, Cumbria Police, said that metal thefts are a "blight on our society" and they caused undue distress and upset to many communities.
He said: "Our message is clear, we will not tolerate metal thefts in our area we will not accept those who think they can come into Cumbria with stolen metal to sell."
According the the Home Office, the illegal metal industry costs the UK at least £220m a year.
There will also be increased fines for breaking the law with illegal traders facing fines of up to £5,000.