New agricultural centre to tackle hill farming's future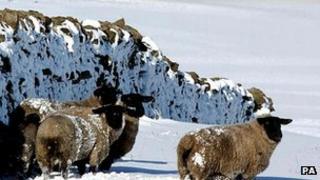 A new agricultural centre based in Cumbria will help exploit the positive opportunities in upland hill farming.
Julia Aglionby, the director of the National Centre for the Uplands at the Newton Rigg College, Penrith, is determined to encourage innovation.
She said the centre will examine different uses of hill farms and give farming business advice.
The National Farmers' Union (NFU) welcomed the centre and said hill farming is facing a downturn.
Ms Aglionby said there are around 13,000 upland farm holdings in England and there is the prospect of over 60% of these farmers giving up within 15 years.
She said to maintain a healthy upland hill farm industry, farmers must be flexible in the way they manage their farms.
She said: "The centre is much more than the nuts and bolts of farming - we equip them with the business skills required.
"It's hugely important to capitalise on assets with upland hill farming.
"Being able to assess if your land might take a hydro scheme, a tea-room or the like is as important as continuing with your livestock - that's where the centre really helps."
Will Cockbain, of the NFU's Upland Group, said: "Years 2010/11 were two good years in the uplands.
"But with the combination of a very bad summer and the general economic malaise in the country, we're heading for a downturn - the National Centre for the Uplands will help farmers manage effectively."