North Cumbria hospital deaths 'worryingly' high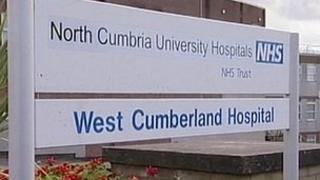 Mortality rates at hospitals in Carlisle and Whitehaven were higher than expected, a report has found.
Cumberland Infirmary and the West Cumberland Hospital were named in the Dr Foster guide as having "worryingly" high numbers of deaths.
North Cumbria University Hospitals NHS Trust said it was working to identify where improvements could be made.
It is also in the process of handing over their running to Northumbria Healthcare NHS Foundation Trust.
The Dr Foster guide measures four categories of mortality and north Cumbria was marked out for mention in two.
These were a high number of people dying in the hospitals and a high number of patients dying up to 30 days after discharge.
Action plan
Mike Walker, medical director of North Cumbria University Hospitals NHS Trust, said: "I don't think it is correct to say that people are dying in the hospitals when they shouldn't be.
"A review of all our deaths over the past year has shown that over 90% of the patients received completely appropriate care as described by our clinical team.
"The process we are going through now is looking at where we can improve.
"We've identified specific areas which we are about to look at and embark on an action plan to implement changes."
Glenn Turp, regional director at the Royal College of Nursing (RCN), said it had been warning the trust about concerns over quality of care for two years.
"It appears from this data that our concerns were well-founded," he said.
"But it is also important to note that the look-back period for this data was prior to the new management team arriving, from Northumbria Healthcare NHS Foundation Trust.
"This report emphasises just how urgent [the takeover] has become.
"It is absolutely vital, therefore, that the trust merger is given urgent priority, so that the structural and operating reforms can take place."