Cumbrian lake gets 'hedgehogs' reefs to protect fish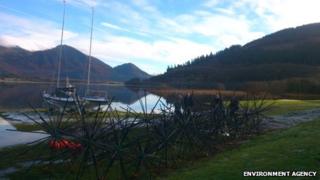 Artificial reefs are being installed in a Cumbrian lake to create a safe haven for fish.
The Environment Agency is installing three spiky constructions onto the bed of Bassenthwaite Lake to create a space that fish of any size can hide in.
Named hedgehog refuges, they protect fish from predators, but do not impact the fish-eating birds.
Michael Farrell from the agency, said fish stocks in the lake have been a "concern" for some time.
Mr Farrell said: "We are always looking for innovative ideas on how to protect the biodiversity of our rivers and these hedgehogs are one way that we can do this.
"Anglers have been concerned about fish stocks along the Derwent catchment for some time and we have taken this approach, as it allows us to protect the fish without targeting the fish-eating birds."
The reefs are being installed as part of a partnership project between the Environment Agency, Bassenthwaite Sailing Club, Carlisle Diving Club, Derwent Owners' Association, Lake District National Park and Natural England.