Antarctic challenge by Leo Houlding tracked by schools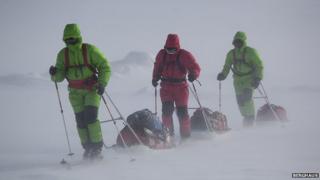 Adventurer Leo Houlding is climbing in Antarctica, one of the harshest places on Earth. But he will not be alone.
His whole team's movements will be tracked by schoolchildren thousands of miles away.
Mr Houlding, from Cumbria, is bringing all his experience and skill to bear as he attacks the Wolf's Tooth on the icy continent.
The 32-year-old's team will be joined virtually by a team of pupils from schools in the north west of England.
As a special project, students from six schools will monitor the team's progress using the internet and satellite phones.
He hopes that a live link can be set up at one point.
The schools participating with the expedition project are drawn from the UK's 17 Adventure Learning Schools (ALS).
Established in 2009, Adventure Learning Schools is a charity, based in Warwick Bridge, near Carlisle, that aims to provide pupils with a broad academic curriculum but with the emphasis on adventure.
The ALS schools are: Dallam School in Milnthorpe Cumbria - the UK's first ALS, Westfield Community School in Wigan, Matthew Moss High School in Rochdale, Thomlinson Junior School in Wigton, Richard Rose Central Academy in Carlisle and Windermere Preparatory School in Cumbria.
Mr Houlding has worked closely with the ALS schools to develop a special curriculum covering essential matters for the expedition, ranging from logistical planning to the local climate and climbers' nutrition.
Pupils have already designed flags for the team to display in Antarctica and are learning about cold environments, climate geography, nutrition and climbers' calorific intake.
Alan Moss, the master leading the project for Dallam School in Milnthorpe, said: "The working relationship with Leo's project has given the students, who already have inquiring minds, another level of understanding as to what it takes to run a successful expedition.
"He's an inspirational person and what he's doing fits perfectly with the ethos of the ALS schools.
"They have been establishing cargo shipping costs, examining how sleds work and the ethics behind pristine environments - even down to the fact that even all human waste has to be brought out from their expedition's location," he added.
Lizzie, a year-nine student at the Dallam School, said: "I've learnt a lot about planning a project as Leo's been planning it for several months.
"When I'm older, I want to go to Borneo and help with the orangutans, this expedition is helping me for all the preparations I'll need to go out there."
Tom, also in year nine, said: "We asked Leo what it is like to use the "squirrel suit" with which he plans to fly from the top of the Wolf's Tooth and he said it was a little nerve-wracking because if the wind picks up, it could take him into the wall of the mountain."
And it is that winged "squirrel suit" that Mr Houlding will use for his quick exit base jump from the mountain face with another of his climbing team.
He is a very experienced base jumper but he said this would be one of his biggest challenges.
The remainder of the team will take another two days to descend - on foot.
The Wolf's Tooth (translated from the Norwegian - Ulvetanna Peak) is in the frozen wilderness of Queen Muad Land in Eastern Antarctica.
Mountaineers know it as being a formidable climb in the coldest, driest, windiest place in the world.
"I suspect the intense cold and strong winds will be our most bitter foes," said Mr Houlding.
"Apparently the rock quality is not great too - it's said to be quite crumbly.
"But it's best to focus [on] the awesome beauty of the peak.
"The incredible remoteness of Queen Maud Land in Antarctica presents serious logistical and safety concerns for this seven-man team, however this is also part of the attraction," he said.
This expedition will take about 50 days to complete and between 10 and 20 days to climb the 1,300m (4,200ft) Wolf's Tooth ridge.