Small earthquake felt in Cumbria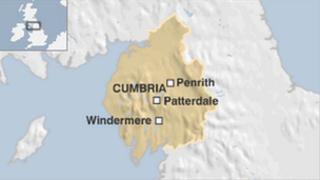 A small earthquake has hit Cumbria, scientists have confirmed.
The British Geological Survey (BGS) said the 2.1-magnitude quake struck in Patterdale at 21:37 GMT on Wednesday.
Beck Carter, a parish clerk in Rosthwaite, was at a council meeting at the time, when she said a "sound and vibration passed over very quickly".
She said: "There was a sound that I couldn't describe... then we all felt it, there was a sort of interesting vibration through your feet."
"It sounded like a freight train approaching if you were standing on a station... we all sort of sat there looking at each other going 'what was that?'," added Ms Carter.
She said at first she thought it could have been something heavy passing on the road or thunder.
According to the British Geological Survey (BGS), the UK experiences about 20 earthquakes a year of a similar magnitude, the majority of which occur along the west coast.
In December 2010, a 3.6-magnitude earthquake was felt across Cumbria and in Lancashire, south-west Scotland, parts of Yorkshire, Northumberland and the Isle of Man.