Lake District National Park fears over nuclear waste store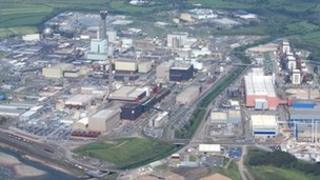 Storing nuclear waste beneath the Lake District could deter people from visiting, national park bosses claim.
Councils in west Cumbria have expressed an interest in hosting an underground repository for waste from the Sellafield reprocessing plant.
Although they have deferred identifying any potential sites until January.
Now, the Lake District National Park Authority has told the government a repository "would not be in the long term interests of the Lake District".
Copeland and Allerdale have been earmarked as potential sites to store high-level radioactive waste.
But Allerdale Borough Council, Copeland Borough Council and Cumbria County Council have put plans to test possible sites on hold until January.
The government sees the identification of a suitable deep geological store as an essential part of its future nuclear power generation programme.
But national park authority chairman Bill Jefferson said burying nuclear waste beneath the Lake District could "damage" the area's brand.
'Reputation and integrity'
In a letter to Energy Minister Baroness Verma of Leicester, Mr Jefferson said: "So far the authority has not taken a definitive position on a below ground repository, because we do not know the facts and risks in detail and we accept that a full understanding might only emerge many years in the future.
"However there are growing and increasingly widespread concerns that a repository below the national park or indeed a perception of such a proposal, would not be in the long term interests of the Lake District, its farming and resident communities and visitor economy.
"Evidence suggests a potential risk to the Lake District's brand image, and on communities that rely on this brand."
The West Cumbria Managing Radioactive Waste Safely Partnership says it remains confident "an acceptable process" can be put in place to mitigate any negative impacts of a proposed underground repository.