Cumbria's new police chief wants good 'morale'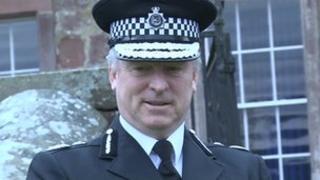 The temporary head of Cumbria Police has said officer morale is one of his top priorities.
Bernard Lawson took over from Chief Constable Stuart Hyde, suspended after being accused of gross misconduct.
In his first interview since taking the job two months ago, Mr Lawson said the happiness of his front-line officers was paramount.
Mr Hyde was cleared of misconduct by the Independent Police Complaints Commission (IPCC) last month.
'Challenging times'
Mr Lawson said: "For me the issue of morale has existed since I joined the job 28 years ago, but the police has been undergoing change since the 1980s, and this is just another period of change.
"But officers on the ground get on with their job, they are less worried about what is happening in other areas.
"What matters to me is that the constables, sergeants and inspectors who are there on the streets delivering the service carry on with their work and their morale is good.
"They are getting on with the job - but we are living in challenging times."
Mr Hyde was suspended in September over complaints about his management style and "heavy-handedness".
But the IPCC cleared him of the allegations saying they were based on "unsupported suspicion".
Cumbria Police Authority said it was still investigating the matters.