On the breadline: Food banks in Cumbria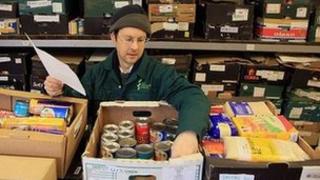 A record number of people in the North West turned to food banks in the last six months because they cannot afford to feed themselves, a charity says.
The Trussell Trust said its network of food banks across Cumbria, Lancashire, Merseyside, and Greater Manchester fed more than 13,500 people since April. This compares to just 22 people in same period last year.
Food Bank Network Development Officer Lynda Battarbee said: "Food banks are becoming increasingly important as people struggle with the rising cost of living and the static nature of income levels.
"In many cases this is forcing people to make difficult decisions between heating and eating, particularly as winter sets in.
"Here in the North West, thousands of people a year are finding themselves going without food and are having to turn to food banks for help."
The reasons range from redundancy or reassessment of benefits to receiving an unexpected bill on a low income.
In addition to 20 Trussell Trust food banks in the region, FareShare North West has over 70 community food groups providing hundreds of people each day with meals, snacks or food parcels.
FareShare works with food manufacturers to stop food being wasted. Every year, 200 tonnes of surplus food are distributed to people in food poverty.
This week, the BBC is looking at food banks, the people who use them and why the need for food handouts is increasing.
Shoppers at Tesco can make food donations at supermarkets all weekend (1 & 2 December), in co-operation with FareShare and the Trussell Trust.
Selected items (listed) can be donated to the following food banks:
CUMBRIA
BARROW-IN-FURNESS
Abbey Road Baptist Church, Abbey Road, Barrow-in-Furness, LA14 5EY
Monday-Friday: 11.00-13.00 GMT
Tel: Rev Jo Northey: 01229 826487
http://barrow.foodbank.org.uk/
KENDAL
King's Food Bank - collection points:
Cumbria Fire & Rescue Service, Busher Walk, Kendal LA9 4RH
Tim Farron's Office, 2 Strickland Gate, Kendal LA9 4ND
NORTH LAKES
Methodist Church, Lorton Street, Cockermouth, CA13 9RH
Monday-Friday: 10:00-12:00 GMT
New Life Church, 24-26 Irish Street, Whitehaven, CA28 7BY
Monday-Thursday: 11:30-13:30 GMT
Tel: Jessie Hendry 07502 311 452 or 01900 823854