'Man with gun' seen in Carlisle hotel: Six arrested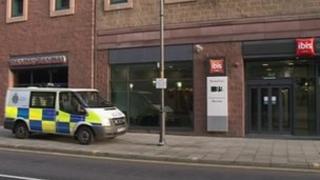 Six people have been arrested after a man reportedly carrying a handgun went into a Carlisle hotel.
Alerted by a member of the public at 04:15 GMT, patrolling officers followed two men to the Ibis Hotel, Botchergate, and called for armed assistance.
Insp Andy Hanson said no-one had been hurt during the incident and no handgun had been recovered.
Two men from Carlisle and three men and one woman from Middlesbrough are in custody in Carlisle.
"Police are searching the area with specialist officers and dog handlers and other unarmed officers," Insp Hanson said.
The area has been cordoned off but the street is open.