Cumbria PCC prepared to make 'unpopular decisions'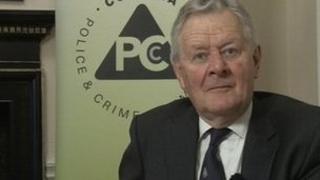 Cumbria's first police and crime commissioner has said he is prepared to make some unpopular and difficult decisions when it comes to spending.
Richard Rhodes, who was sworn in earlier, will be responsible for setting priorities for the force, including overseeing its budget.
He will be identifying areas where savings can be made, although reducing frontline policing has been ruled out.
Another duty is appointing the force's chief constable.
Mr Rhodes said: "I wouldn't have stood for this election if I didn't understand that part of this job was going to involve making some unpopular decisions.
'Fresh pair of eyes'
"But I would hope that once we get through that we can move into a very positive and constructive relationship, and continue to produce an effective police force in Cumbria, irrespective of financial constraints."
With no plans to cut frontline policing, he said that other areas of constabulary activity would have to be looked at.
"These include organisation, duplication of effort, obviously back office services," he said.
"All these things have been looked at already, but we are going to have to go back in with a fresh pair of eyes and look at it again."