Egremont mine collapse homes still unsafe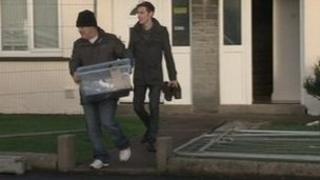 People who were forced to leave their homes after mine workings in Cumbria collapsed have been warned they might not be able to return before Christmas.
Nine households have been in temporary accommodations since 14 November, when a 80ft (25m) deep hole appeared to the rear of Howbank Road, Egremont.
Residents were earlier allowed back for a few hours to collect some belongings.
Copeland Borough Council said it wanted people to return as soon as possible but safety was the priority.
Resident Scott Moffat said: "We've got a six-month-old son, so the situation is not ideal."
Ian Curwen, from the council, said: "We think they'll be out of their homes for around six weeks.
"We're working to reduce that time as much as possible but at the moment it's the best guess we can give.
"Ultimately what we've got to do is ensure that the properties are safe, and people will be able to return only when it is safe to do so."