Ex-canon of Carlisle Cathedral Ronald Johns jailed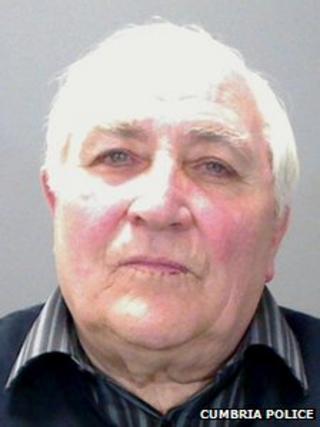 A former canon of Carlisle Cathedral, convicted of a series of child sex offences dating back almost 30 years, has been jailed for four years.
Ronald Johns, who was also a vicar in Borrowdale and Caldbeck in Cumbria, was found guilty of sex offences against three boys between 1983 and 1991.
He admitted 10 counts of indecent assault and gross indecency.
The 75-year-old, of Kings Road, Coltishall, Norfolk, was sentenced at Carlisle Crown Court on Monday.
The court heard that between 1983 and 1991 while serving as a Church of England vicar in Borrowdale and then as a Canon at Carlisle Cathedral, Johns had used "classic grooming techniques" to abuse three boys aged between 14 and 17.
In each case the victims described Johns as a "trusted family friend" - one saying he was a "father figure".
In all cases they said they had struggled to come to terms with the abuse. Two of them told police they considered suicide.
Johns admitted two charges of indecent assault and four counts of gross indecency in relation to one victim.
Official complaint
He also pleaded guilty at an earlier hearing to two counts of gross indecency each against two other teenagers.
Cumbria Police praised the victims who had come forward and said Johns had "abused his position of trust to commit heinous crimes against children."
A spokesperson for the diocese said the sentence was "just and fair".
The court was told Johns was demoted by his bishop instead of police being informed of the allegations made by his first victim.
The victim had made an official complaint to the church in 1993. By that time Johns was a canon at Carlisle Cathedral.
Johns made admissions to the then bishop, the late Right Reverend Ian Harland, who felt the appropriate sanction was to move him to a church in Caldbeck.
The matter only came to the attention of police this year when another victim complained he had been abused by Johns.
Police checked records at the cathedral, which detailed the 1993 complaint dealt with by Bishop Harland, who died three years ago.
Sentencing him, Mr Justice Singh said: "As you accept, you have ruined your life and brought disgrace upon yourself."
He said his pre-sentence report had summarised his behaviour as "manipulative" and "predatory".
John Morgans, defending, said Johns had gained no advantage by the police not being initially informed.
He said the bishop's decision at the time had effectively worked as there had been no repetition of his sexual indiscretions.
The court heard Johns gained his victims' trust and confidence before he give them alcohol and abused them while watching pornographic videos.
On one occasion he took a church service at Carlisle Cathedral and then removed his robes to visit a shop and rent two porn videos.
'Horror and betrayal'
In victim impact statements, the 1993 complainant said he had undergone lengthy counselling after a failed marriage and suffered from depression and had suicidal thoughts.
Another victim was prone to anxiety and agoraphobia, while the third experienced flashbacks and night terrors.
The court heard from the archdeacon of West Cumberland, Richard Pratt, that the congregations affected had expressed their "shock, horror and betrayal" at the situation.
The current bishop of Carlisle, the Right Reverend James Newcome, said: "We unreservedly condemn this and any abuse."
He said the Church's "thoughts and prayers" were with the victims and their families.
"We apologise again to them for failing to take the action we should have done when Ronald Johns's crimes first came to light," he said.