Egremont mine shaft collapse: Worker rescued from rig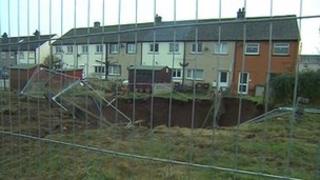 A man has described how he pulled a worker from an 80ft (25m) deep hole when a disused mine shaft collapsed close to houses in west Cumbria.
The worker was operating a drilling rig to cap the mine with concrete in Egremont, when the shaft collapsed on Wednesday.
Ryan Rickerby, 25, saw the incident from his Howbank Road home and rushed to the aid of the stricken worker.
He said he managed to unbuckle the man from the rig and haul him to safety.
No-one was seriously hurt, but eight homes were evacuated as a precaution in case the 75ft (23m) wide crater caused further damage.
Copeland Council, which owns the land, said it now faced a repair bill of at least £250,000. The authority said residents asked to leave their homes would not be able to return until after the weekend.
Mr Rickerby, who was one of those forced to leave his home, said he witnessed the drama unfold from his kitchen window.
The pipe-fitter, who works at the Sellafield nuclear reprocessing plant, added: "I happened to be watching the drilling machine when the house began to shake.
'Immediate investigation'
"All of a sudden, the garden literally just fell into the ground. There was a huge cloud of dust and a loud rumble and when I could see what happened, I realise the floor had literally just fallen through.
"Our neighbour's shed went into the hole followed by the drilling rig. The guy was harnessed to the machine and he went in too.
"He was holding on to what was left of my fence and screaming out. I managed to climb down and unclip him and pull him out.
"It was scary for us all. There's not much left of my garden - just the gate really.
"We've not been told when we'll be able to get back into our homes."
The damaged drilling rig has now been removed the collapsed shaft.
A spokesman for Copeland Council said: "We have been working intensively for some months to monitor movement related to an historic mine shaft in Egremont and yesterday we began work to fill and cap the shaft.
"During the works there was a slump in the land around the top of the shaft. Thankfully nobody was injured, but some equipment fell into the hole. We ceased work and closed off the area for safety reasons.
"Eight households have been evacuated as a precaution whilst the immediate investigation continues.
"We are providing support to the households in question on an individual basis and to local residents in general."