Great Gable hosts a Remembrance Day service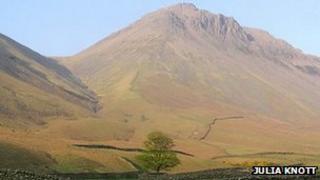 Walkers climbed to the top of a Lake District mountain for the annual Remembrance Day service.
Hundreds made their way to the 2,949ft-high (899m) summit of Great Gable for a period of silence at 11:00 GMT.
They gathered around a plaque commemorating members of the Fell and Rock Climbing Club who died in World War I.
Elsewhere in Cumbria the mayor of Carlisle, David Wilson, attended a service at the city's cathedral.