Cleared police chief Stuart Hyde still off work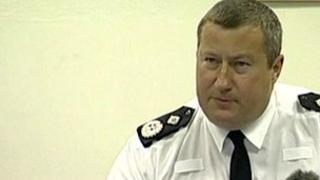 Cumbria's temporary chief constable, who was cleared of serious misconduct a month ago, is still off work.
Stuart Hyde was suspended in September over complaints about his management style and "heavy-handedness".
The Independent Police Complaints Commission (IPCC) cleared him of the allegations and Mr Hyde said he was disappointed to still be off work.
Cumbria Police Authority said it was still investigating the matters and suspending Mr Hyde was a "neutral act".
The IPCC said the allegations did not amount to serious misconduct and were "based on unsupported suspicion".
'Co-operated fully'
But it said it had told the police authority if further evidence was uncovered, the matter should be referred back to it.
The police authority said Mr Hyde would remain suspended for the time being while the Chief Constable of South Wales Police Peter Vaughan investigated the allegations.
Mr Hyde said: "The IPCC has concluded that there was no evidence of serious misconduct requiring further investigation by them.
"Cumbria Police Authority, however, decided to investigate some matters further.
"Since then I have co-operated fully and voluntarily submitted more information to them. I am disappointed that my suspension continues.
"I look forward to the investigation concluding and I remain absolutely committed to return to my role as chief constable and to serving Cumbria."
'Neutral act'
An authority statement said: "The authority takes all allegations against any police officer seriously and must address these allegations in an appropriate manner.
"Temporary Chief Constable Hyde remains suspended and this will continue to be regularly reviewed.
"Suspension is a neutral act that will enable a full and thoroughly investigation to take place."
Deputy Chief Constable Bernard Lawson, from Merseyside Police, has taken over Mr Hyde's role temporarily.