Bryan and Steven Dance jailed for burgling woman, 77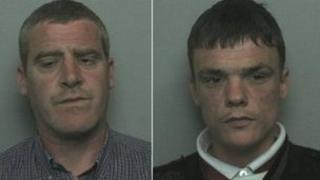 A father and son who conned their way into a 77-year-old deaf woman's home and burgled her have been jailed.
Bryan Dance, 49, and son Steven, 25, pretended to be salesmen and stole £170 of valuables from their Carlisle victim's apartment as she made tea.
Steven Dance, of Botcherby, admitted burglary and was jailed for four years.
His father, of Sherwood Avenue, Nottingham, denied burglary, but was found guilty and jailed for six years at Carlisle Crown Court.
Steven Dance, of Borland Avenue, also admitted cultivating cannabis at his home.
The court heard that the woman invited the men, who were selling clothes and batteries, into her home.
'Dreadful crime'
They were only in her property for 10 minutes but quickly searched the rooms and stole cash she was keeping for bingo, the court heard.
Cumbria Police welcomed the sentence and described the burglary as "appalling" on a vulnerable woman who had been deaf since birth.
Det Con Chris Hind said: "These two men quickly recognised how vulnerable this woman was and stole from her.
"Not only were they able to quickly search other rooms and steal money which she had been keeping aside for her trip to the bingo but [they] took back the items that they had sold to her.
"The sentence given reflects the dreadful nature of this crime. This was an appalling crime against a vulnerable, elderly, lady."