Three Cumbria beaches fail water standard tests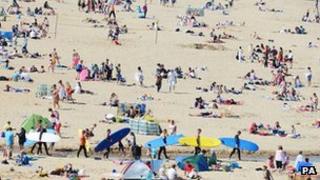 Three Cumbrian beaches have been judged to be among the dirtiest in the UK.
Heavy downpours washing toxins into seawater at Allonby South, Walney Biggar Bank and Walney West Shore have been blamed.
The Department for Environment, Food and Rural Affairs (Defra) said they had failed to meet bathing water standards.
The Environment Agency said it was disappointed. But it was not all bad news - St Bees and Seascale beaches passed the minimum standard.
Dan Bond, of the Environment Agency, said: "We are disappointed by these results after major improvements which have been achieved over the last two decades.
"Heavy rainfall washes animal wastes from fields and causes storm sewage overflows to operate.
'Reduce impact'
"This contributed to some of the North West's designated bathing waters failing to meet the mandatory standards.
"We have surveyed many of our rivers that impact on our bathing waters and are taking action to help reduce the impact that they have, particularly that caused by rainfall run-off from agricultural land."
He added that water firm United Utilities had built a 21m-deep storm tank near its Hutton Place pumping station, which would help stop dirty water polluting Maryport and Allonby.
The figures published by Defra revealed that overall 93% of England's bathing waters met the minimum European water quality standard - in the North West the figure was 82%.