Brockhole monkey puzzle tree felled despite campaign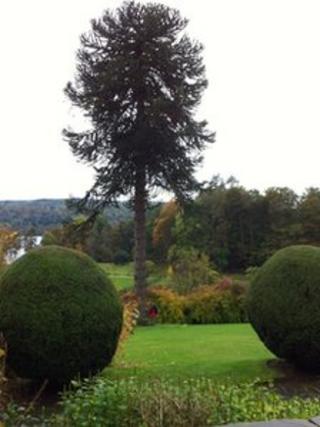 A 110-year-old monkey puzzle tree has been felled, to the dismay of campaigners who fought to save it.
It was planted in the Grade II-listed garden of the Gaddum family home on the shores of Windermere in Cumbria against the wishes of designer Thomas Mawson.
The house is now the Brockhole Visitor Centre and the Lake District National Park Authority wanted to remove the tree to open up the view of the lake.
Despite the campaign to save it, tree surgeons have now cut it down.
Officials said the tree was not part of the original design and detracted from the view the Edwardian gardener wanted to preserve.
Bob Cartwright from the Lake District National Park Authority said: "The tree had grown to such a scale that it had obliterated the house from the view back from the lake and also the view from the terrace back out into the garden."
Campaigner Marianne Birkby said she was "choked" at the decision and could not bear to watch.
She said: "I just stayed for ten minutes to remonstrate with the tree surgeons and then left."