Tour of Britain 'boosted Carlisle's economy by £2.3m'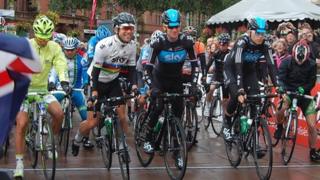 Carlisle's economy received a £2.37m boost from the Tour of Britain cycle race, a study has found.
The city hosted the fourth stage of the race in September, in which riders trekked 156km (97 miles) to Blackpool.
About 110,000 spectators are thought to have cheered on cyclists, who included Olympic champion Bradley Wiggins and former World champion Mark Cavendish.
The independent study showed hotels, pubs and restaurants all benefited from the event.
'Largest crowds'
City council leader Joe Hendry said: "The Tour of Britain was a wonderful opportunity for promoting Carlisle.
"As part of its journey through the city streets, local residents, schools, businesses and community groups provided tremendous support to all the cyclists taking part.
"We're delighted that the event provided a much-needed cash injection to the local economy."
Hugh Roberts, chief executive of the Tour of Britain, said: "The Carlisle start was one of the highlights of this year's race, with some of the largest crowds of any start, despite the weather.
"The people of Carlisle and Cumbria really embraced the Tour this year and we hope to continue to work with Carlisle City Council going forwards."
The race, which took place between 9 and 16 September, was contested by 100 riders and won by Jonathan Tieran-Locke of the Endura team.