Lake District zip wire attraction plans resubmitted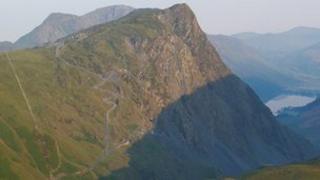 Plans to erect a mile-long zip wire for a temporary period on a Lake District mountain have been resubmitted.
The Honister Slate Mine said it wants to erect the zip wire to initially test out public opinion for 12 months.
Cumbria University would be engaged to carry out research within the community throughout that period.
The Lake District National Park Authority has previously rejected plans as they felt it would be detrimental to the environment.
The National Park Authority's development control committee is expected to deliver its decision in January 2013.
If granted, plans would be put into motion in February.
Barry Surtees, from the slate mine, said: "The survey would be carried out with residents in the Honister area and tourists alike, so a full picture could be drawn up and presented to the planning committee.
"We really do not want to destroy the peace and tranquillity of the area, and with the mine having a similar construction here more than 80 years ago, we feel it is an appropriate construction."