Rail line closed for second time as floods hit Cumbria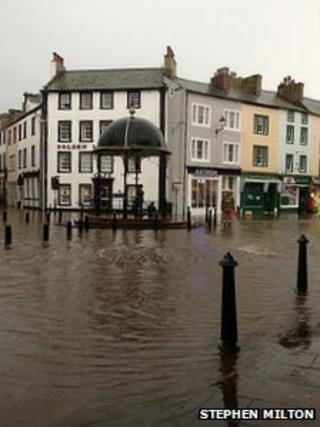 Heavy rain has caused a landslip on a stretch of rail line in west Cumbria where a train was derailed six weeks ago.
Services were halted after part of an embankment collapsed on to the Sellafield to Whitehaven line near St Bees. No-one was hurt.
Concrete barriers put in place after a similar incident in August failed to prevent the line being damaged.
Elsewhere, Whitehaven and Egremont are among areas to have suffered flooding.
Network Rail said buses were being used for passengers travelling between Sellafield and Whitehaven, with the line expected to remain closed until Thursday.
Spokesman Keith Lumley said: "Unfortunately we're in exactly the same situation as we were last time.
"The earth has slid down from the top of the embankment, the majority of which has been caught by concrete barriers we put in after the last slip.
"But some has spilled over on to the track and consequently we have had to close the line."
In Cleator Moor, St Patrick's Roman Catholic Primary School was forced to close after the heavy rain caused some ceilings to collapse. No-one was injured.
Police urged motorists to avoid the centre of Whitehaven after hours of torrential rain coupled with exceptional high tides flooded roads and waterlogged properties.
Market Street, Tangier Street, Roper Street, Lowther Street and Coach Road have all been closed. No evacuations have taken place.
A spokeswoman for the Anchor Vaults pub in Whitehaven said: "At the bottom of the stairs the water is up to my hips.
"But the further you go through into the cellar where the barrels are it's deeper still.
"The electric has gone off and there are a lot of barrels floating in the water down in the cellar. We've tried pumping the water out, but at the moment it doesn't seem to be going down any."
Martin Slack, of Cumbria Fire and Rescue Service, added: "We have been pumping out properties where necessary and monitoring water levels.
"The Market Place area seems to have been the worst hit, with a lot of properties affected."
A flood risk warning was earlier issued to residents and businesses in coastal areas of the county.
The Environment Agency warning extended from as far north as Gretna down to Silloth. There was also a less severe flood alert from Silloth down to Millom.
The warning was due to an expected high tide at about 13:00 BST.
Other areas at risk included properties at Mossband Hall Marsh, Silloth, Burgh Marsh, Port Carlisle, Wampool Estuary, Skinburness Marsh and Rockcliffe.