Brockhole monkey puzzle tree reprieve bid fails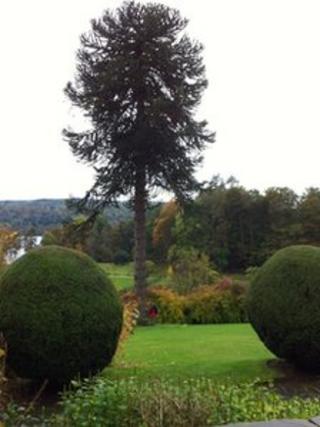 Campaigners hoping to save a 110-year-old monkey puzzle have failed to win a reprieve for the tree.
They had lobbied a meeting of the Lake District National Park Authority, which wants to remove the tree from Brockhole visitor centre on Windermere.
The authority's Adam Thomas and campaigner Marianne Birkby agree the tree "dominates the view" but disagree over whether this is desirable.
Her campaign group asked board members to discuss, and vote to keep, the tree.
However members refused to step in and prevent the felling, leaving it likely the tree will come down within the next few weeks.
"It dominates the view in such a fabulous way," said Ms Birkby.
"It's the thing that all the visitors to Brockhole actually come and photograph."
Mr Thomas said: "I do think it's a lovely tree but, unfortunately, it dominates an historic view."
'Three beautiful views'
The house was formerly the home of the Gaddum family and became a visitor centre in 1969.
Its Grade II-listed garden was designed by Edwardian landscape architect Thomas Mawson.
Against his wishes the tree was planted by the family in the middle of the lawn, reportedly as soon as he had left.
The authority believes the tree detracts from the view Mawson wanted to preserve and wants to remove it as part of work to restore the gardens to their original design.
"Mawson designed three beautiful views at Brockhole that, since the tree has reached its maturity, have never been seen," said Mr Thomas.
The authority plans to take cuttings from the tree and plant a new specimen in a different part of the grounds.