Wasdale Head electricity loss: Mains power restored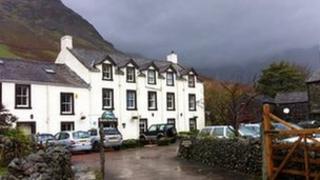 A remote Cumbrian village which has been without mains electricity for 10 months has had its power restored.
Eleven properties in Wasdale Head have had to rely on generators since Christmas Eve after a fault developed in the power line under Wastwater.
Now the electricity has been turned back on after a £750,00 project by Electricity North West to replace the cable under the lake.
Resident Georgina Wrathall said the village was "over the moon".
It was initially hoped that a new power line could be laid under the narrow lake-side road leading to Wasdale Head.
However, the discovery of dense rock led to that plan being abandoned, so it was decided to replace the cable under the lake.
Generator drone
Martin Deehan, from Electricity North West, said: "I'm delighted that we have successfully restored mains power to this beautiful area.
"This has been a long-term project with all sorts of challenges - there is no easy way to get mains power to such a unique and remote part of the UK.
"I'd like to thank the residents and businesses for their patience, and our engineers for their efforts."
The village has only had mains electricity since 1977, and was one of the last places in the UK to be connected to the National Grid.
The drone of the generators had become a feature of the once-quiet valley, which Ms Wrathall said she "won't miss".
"We're over the moon that mains electricity has been restored and the generators have been turned off.
"Disruption has been kept to a minimum throughout the project so we've been able to stay fully open throughout, as have the rest of the businesses in the valley."