Police election turnout fears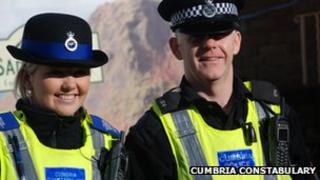 A former chief constable has raised concerns about public awareness of next month's Police and Crime Commissioner (PCC) elections.
Prof Mike Tonge, head of the Institute of Policing and Partnerships at Cumbria University, says poor publicity about the elections will lead to low turnout.
PCCs will be elected on 15 November and replace police authorities in each force area in England and Wales.
They will oversee budgets and hold police chief constables to account.
'Huge change'
Mr Tonge, the former chief constable of Gwent Police, fears the importance of the post will not be reflected in the turnout for the elections.
He said: "This is a huge change in the dynamic of policing and the public really having a stake in selecting someone who's going to hold the police to account in their own areas.
"These areas are huge compared with an MP's constituency so there is a real concern if the turnout is low as predicted.
"Less than one in five people know this is taking place and if we get an 18% turnout it really will cause doubt in terms of the whole principle of electing people to represent the public in holding their chief constable to account."
The Home Office decided against arranging a free postal drop for election information but said the elections and "benefits" of PCCs had been publicised for more than two years.
A spokeswoman said: "A national advertising campaign including television and radio adverts launched this month and every registered voter will receive details of a dedicated website with information on each candidate.
"Those details can also be requested in written form through a free phone line which will be included on all election literature."
The television adverts started to appear this week but farmer Harry Hutchinson from Howgill Fells in Cumbria is far from convinced that voters will get enough information.
'Voting duty'
His home does not have internet access and he worries others in his situation will be uninformed about the elections.
Mr Hutchinson said: "I try and vote at every election; it's a duty. But this particular election information is all on the internet and we can't get access to it at all.
"We can't get internet and I must admit I was almost unaware there was going to be an election in Cumbria because of lack of news about it.
"In normal elections there's plenty of publicity, but this time it's not really been covered as far as I can see.
"If everything is going on the internet you're immediately disenfranchising all those non-computer owners."
So far four candidates have announced they are standing for election in Cumbria.
See more on this story on Sunday Politics in the North East and Cumbria on BBC One at 11:15 BST on Sunday