Cumbria Police chief Stuart Hyde cleared of misconduct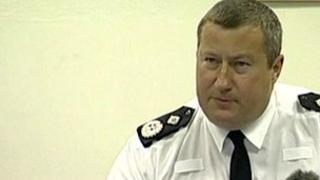 Cumbria's temporary chief constable has been cleared of "serious misconduct" following a probe by the Independent Police Complaints Commission (IPCC).
Stuart Hyde was suspended in September over complaints about his "management style" and "heavy-handedness".
The IPCC said the allegations "do not amount to serious misconduct" and were "based on unsupported suspicion".
Mr Hyde remains suspended and Cumbria Police Authority is to ask another chief constable to investigate further.
'Clear his name'
The IPCC said it had told the police authority if further evidence was uncovered, the matter should be referred back to it.
The police authority said all allegations had to be taken seriously.
"It is important to stress that suspension does not imply guilt," a statement said.
"It is a neutral act that will enable a full and thorough investigation to take place."
The BBC's North of England correspondent Nick Ravenscroft said the suspension related to complaints about his management style and allegations of heavy-handedness.
Deputy Chief Constable Bernard Lawson from Merseyside Police has taken over Mr Hyde's role temporarily.
Mr Hyde, who was appointed in January, had said he was "devastated" to learn about the allegations and wanted to clear his name as soon as possible.