Sal Madge's Whitehaven grave gets new headstone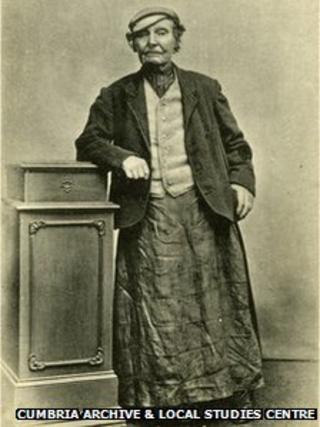 A Whitehaven woman who bucked Victorian tradition by looking - and acting - like a man has been remembered with a new headstone.
Sal Madge, who was born in 1831, worked in the town's colliery, drank pints, kept her hair short, smoked a pipe and wrestled men for sport.
Her only nod towards her gender was a skirt - but that still sat below a man's jacket, shirt and waistcoat.
She died a pauper in 1899, although so popular there were reportedly huge crowds at her funeral.
Philip Ashforth, chairman of the Friends of Whitehaven Museum, said "the streets were lined".
"She was obviously held in quite high esteem by fellow workers. She held her own in a man's world," he said.
"She was really a different kind of woman altogether."
'Man's life'
Sal Madge worked at Croft and Wellington pits in Whitehaven, leading the horses which pulled wagons filled with coal and socialising with the miners.
"She took many of the aspects of a man's life," said Mr Ashforth.
"Drinking beer, chewing baccy, smoked a pipe, played cards and, above all, she wrestled with men. Cumberland wrestling, not just hand wrestling."
Mr Ashforth said she was born in a Penrith workhouse in 1831 and died in 1899. For 90 years her grave went unmarked.
Then, in 1993, the Friends of Whitehaven Museum thought it was "about time her role in life was recognised", said Mr Ashforth.
A headstone was erected but, in 2010, it was vandalised beyond repair.
Now the friends have installed a replica, donated by the makers of the original, Robertson Memorials.