CCTV footage put online by shopkeeper angry at police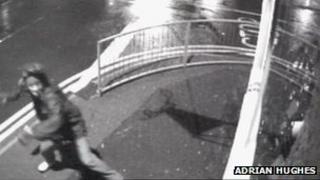 Adrian Hughes feels abandoned by the police.
"You feel as if you're wasting 20 pence every time you phone them now," he said.
For more than a decade his bicycle shop Cycle 100, in Barrow in Furness, Cumbria, has been repeatedly burgled and vandalised.
"I stopped counting at 70," he said. "You'd report it to the police and they'd say, 'Yeah'.
"That's all you got. Just another statistic."
Now he has started posting clips from his shop's CCTV system online in an attempt to identify the culprits.
He said he had given Cumbria Constabulary footage in the past which did not appear to have been acted upon.
'Systematically' burgled
The force said it was "committed to following up all available leads" but that a "thorough police investigation" could take time.
When the shop opened in 2001, Mr Hughes said he had been "systematically" burgled every weekend.
"You'd put a new door on and they'd smash their way through the door to steal a bag of cement."
Windows have been broken, walls painted with graffiti - all costing hundreds of pounds to repair or replace.
"At one point it nearly made me bankrupt," said Mr Hughes. "Over the years I would say you'd be getting into 20 maybe £30,000 worth of stuff."
He is frustrated he cannot stop it.
"It's the apathy that you get, you know, it makes you feel like, well, who wants to complain, who wants to engage?"
Since posting clips from his CCTV system on YouTube, Mr Hughes said he had been visited by two police officers who said they were looking at better lighting and newer Neighbourhood Watch signs.
Despite the CCTV cameras criminals fear no repercussions, he thinks.
One young man broke a window and walked away. "He didn't run, wasn't scared or anything, walked up the road.
"I'm actually surprised that they don't do a tap dance while they're doing it, and smile at the camera.
"The police don't seem to be able to identify anybody, even if you do get full facials."
'Reduced significantly'
He thinks the police are "overstretched" but is disappointed with what he sees as a defeatist attitude.
"One officer came down and said, do you know we're not going to catch anybody?"
Barrow inspector Mike O'Hagan said he had assured Mr Hughes police are investigating and said inquiries were ongoing.
"The community should be confident in the policing service we deliver in Barrow. Overall crime and anti-social behaviour have reduced significantly over the last year," he said.
"We would not advise any member of the public who is unfortunate enough to become a victim of crime to take matters into their own hands."
The police force has arrested a 16-year-old boy on suspicion of committing criminal damage in relation to an incident on 15 September this year.
Mr Hughes has turned to his MP, Labour's John Woodcock, for help.
A spokesperson confirmed a meeting had been arranged between the Barrow MP's senior caseworker and Mr Hughes to discuss the issues raised over a number of years.
Born and brought up in Barrow, Mr Hughes said he would not give up.
He said shop rates were cheaper in the old part of Barrow but "you pay for it" with vandalism.
"I'll find out who they [the vandals] are and I will make sure they get prosecuted and I'll just keep on with it until we get there."