Work to build submarines delayed by flooding in Barrow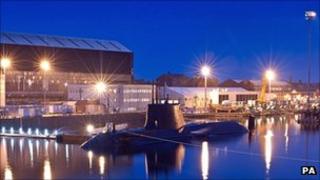 Work to build the Royal Navy's most technologically-advanced submarines at a Cumbria shipyard has been delayed due to flooding.
BAE Systems is building the nuclear-powered vessels in Barrow, but staff were evacuated after heavy rain on Tuesday.
A clean-up operation in the main dock hall was carried out, with staff being allowed back on Wednesday.
The second of seven Astute class submarines left Barrow last month.
A BAE Systems spokesman said: "Following the flooding incident in the Devonshire Dock Hall, the clean up is progressing well, with subsequent damage being rectified.
"There has been no damage to the submarines as a result of the flooding and areas of the facility are gradually being re-opened."