Cumbria councils defer nuclear waste storage search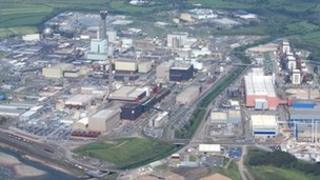 Three Cumbria councils have deferred plans to allow tests for a possible underground nuclear waste repository.
Copeland and Allerdale have been earmarked as potential sites to store high-level radioactive waste.
But Allerdale Borough Council, Copeland Borough Council and Cumbria County Council have put plans to test the sites on hold until January 2013.
Leader of Cumbria County Council, Eddie Martin, said it was not a decision that can be "taken lightly".
The councils say they want "more clarity" and a "better understanding" from the government about the detail and timescale involved in the search.
Mr Martin, said: "This is not a decision which can be taken lightly.
"Members don't yet feel we're in a position where we have all the information needed to make a decision on whether to continue to engage in the Managing Radioactive Waste Safely (MRWS) process.
"The government has always made it clear that if necessary, the process can be 'paused' while we seek clarification on unresolved issues.
"We're at that stage now and the next three months will involve all three councils working closely with the government to get to a position where a decision can be made."