Pirelli factory death: Cumbria Police start probe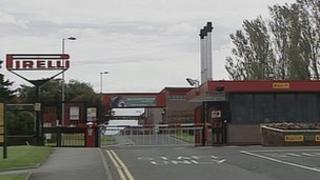 Police are treating the death of a man at the Pirelli tyre factory in Carlisle as suspicious.
George Falder, 48, from Carlisle, was found at his work station, the company said.
Cumbria Police said officers were called to the Dalston Road plant by ambulance crews on Sunday evening.
A post-mortem examination has been carried out and the factory, where about 850 people work, has been temporarily closed.
'Terrible tragedy'
A statement from the company said: "Pirelli is deeply saddened to announce a death at its Carlisle site.
"The circumstances of this tragic event are still unclear and the matter is being investigated by the Cumbria police, with Pirelli's full support.
"The company recognises the traumatic impact to the family of the deceased and will do everything it can to help them through this terrible tragedy.
"Our thoughts and prayers are with them."
The Health and Safety Executive (HSE) is assisting with the police investigation.